I was recently contacted about a faded Limestone patio which needed attention in the small village of Stourton. Having spoken to the owner on the phone I arranged to visit the property so I could assess the issues in full and prepare a quote. We have found that during the Covid-19 pandemic, people have been spending so much time at home outside, Tile Doctors have been getting more requests for patio restorations which are ideal considering the situation.
We visited site to carry out a survey following social distance guidelines. The limestone flags were very washed out and grey, nothing like when they were first set in the patio area. The owner of the house explained that the flagstones had never been sealed and had been washed weekly with a jet wash. Over time the elements had got to the stone and disrupted the oils which are present in the stone causing the washed-out look. I recommended a restorative treatment involving deep cleaning, oiling and the application of a colour enhancing sealer. This process which restore its original appearance and get the patio looking great again.
Cleaning and Restoring a Limestone Tiled Patio
My quote was accepted, and I set to work cleaning the stones with a medium dilution of Tile Doctor Pro-Clean worked in with a rotary machine fitted with a black scrubbing pad. Pro-Clean is a concentrated, multi-purpose high-alkaline cleaner, stripper and degreaser that can be diluted at varying strengths (see directions) and is safe to use on stone. The slurry was then extracted with a wet vacuum and the process repeated until I was satisfied.
On this occasion the stone wasn't that dirty, it was just bleached of colour so I was able to clean it with Pro-Clean, had the stone been heavily stained I would have opted for Tile Doctor Patio Cleaner. You must be very careful with that product through as its very strong.
After several hours of scrubbing, the stones were looking clean, so I left the patio to dry out in what was becoming a very hot day. The Limestone dried quickly so it wasn't long before I was able to move onto the next treatment which was to apply Tile Doctor Stone Oil. Stone Oil puts back the natural oils in the stone improving texture and colour. Once done I left the patio to dry out overnight.
Sealing a Limestone Tiled Patio
This work was done in May which turned out to be a really hot month with hardly any rain, ideal conditions for applying a sealer to external stone. Therefore, I was able to return the following day and seal the patio. For this I used three coats of Tile Doctor Colour Grow sealer, this is a breathable colour intensifying sealer which will protect the stone going forward and make it easier to clean. In this instance it enhanced the beautiful natural colours of the limestone and left it sealed and in great condition.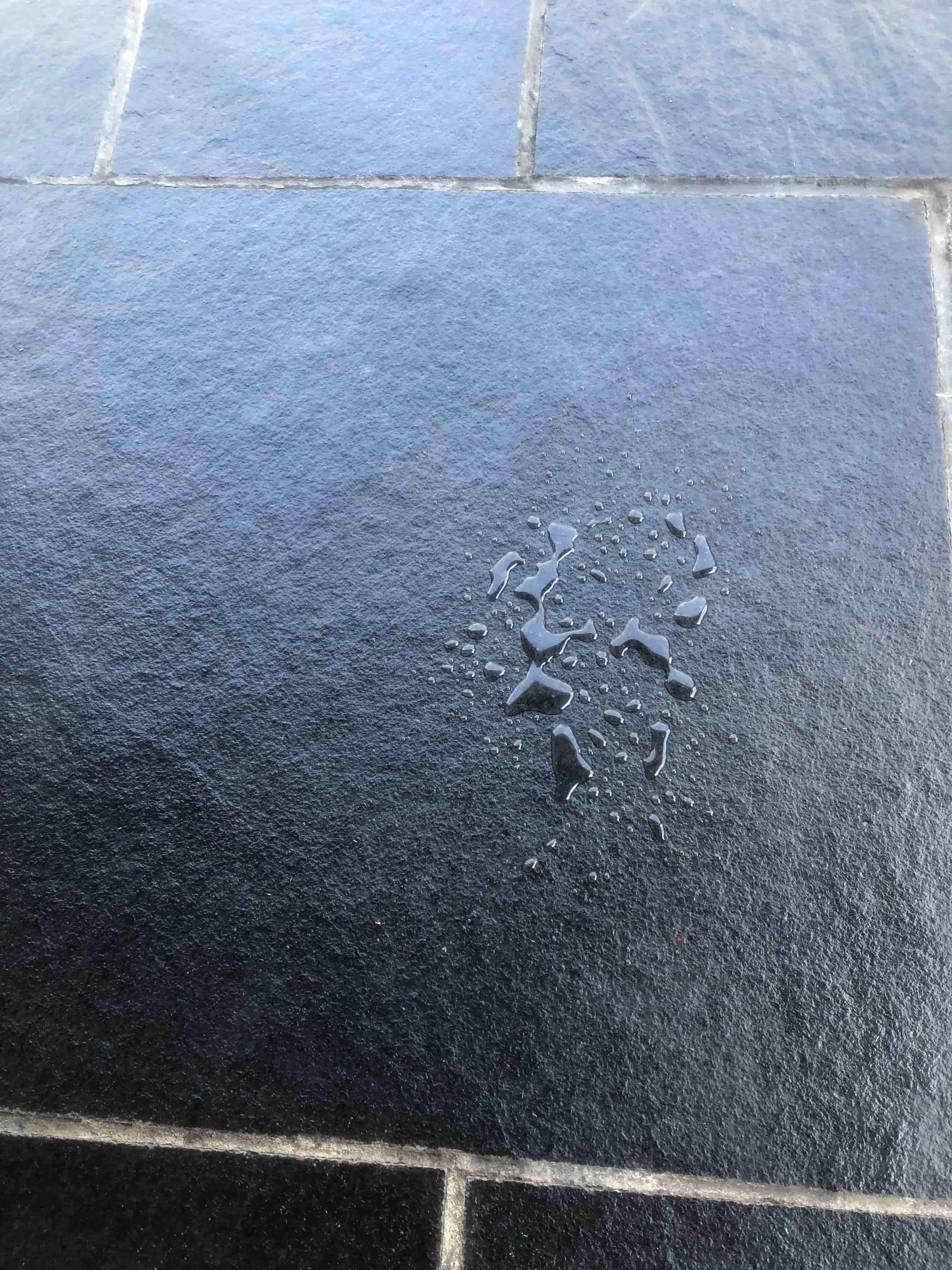 Being breathable this sealer will cope well with the damp weather we often get in the UK, however its worth noting that particularly cold winters where the temperature consistently drops below minus 5 degrees Celsius can cause problems.
The client was very satisfied with the work we had carried out and they were looking forward to the lockdown easing so they could show it off to family and friends once they are able to visit again- hopefully very soon.
Professional Restoration of a Limestone Patio in Worcestershire