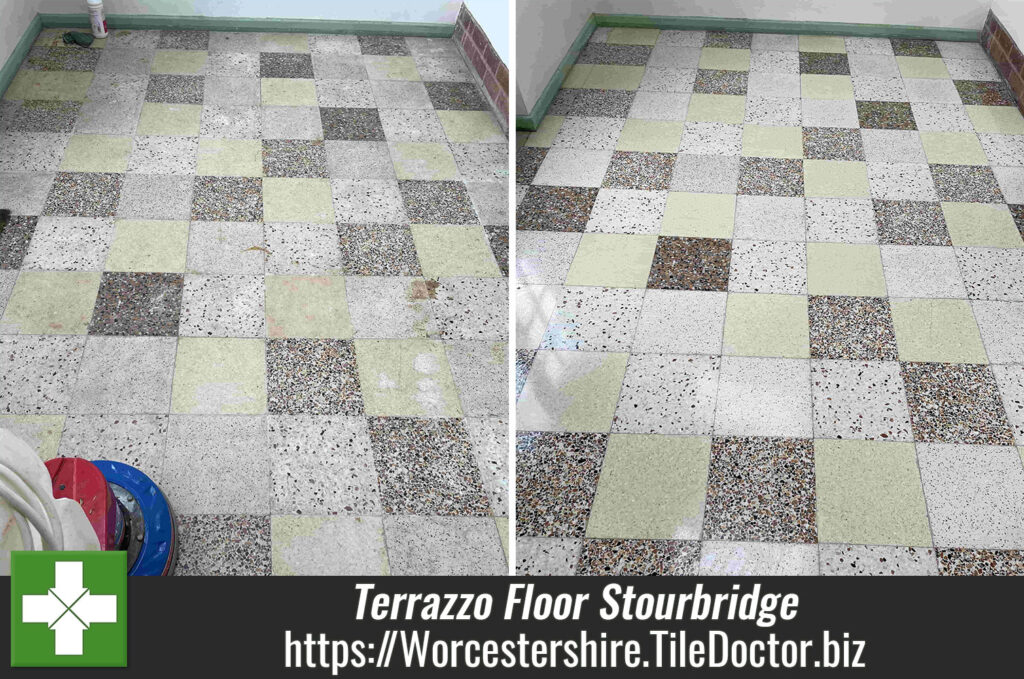 It is tricky to tell from the photos but this Terrazzo tiled floor at a property in Stourbridge was stained with various contaminates and the owner has decided to call us in to get it cleaned. Stourbridge is a small market town in the West Midlands about 20 miles north of my base in Worcester and once famous for its glass making.
To renovate Terrazzo, you ned to understand that it's made up of thousands of pieces of crushed stone including marble, so you need to treat it like a stone floor and use a set of burnishing pads to grind off the dirt, old sealers and bring up the polish. Our client was delighted to hear that the floor could be restored and that we would be able to improve the staining and likely remove it. They were happy to go ahead with our quotation and we arranged to complete the work later in the month.
Cleaning a Terrazzo Tiled Hallway Floor
On arrival work began by taping up the skirting boards and surrounding wood trims to ensure they were protected. To renovate the Terrazzo, no chemical products would be needed for the cleaning, just a selection of burnishing pads starting with a very coarse 100-grit 17-inch diamond encrusted burnishing pad. The coarse pads break out the deepest stains, removing dirt and old sealers and are passed over each tile four times. Water is used to lubricate the process and it isn't long before this turn into a dark slurry. Once done the floor is rinsed with a little more water and the slurry extracted with a wet vacuum.
This process was repeated with the 200, 400, 800, 1500-grit pads. After a final rinse the last pad in the sequence which is a 3000-grit pad is applied dry with only a little water sprayed onto to the floor. This last pad is a polishing pad that adds a slight shine to the Terrazzo.
Sealing a Terrazzo Tiled Hallway Floor
Due to the fact the cleaning process involved minimal amounts of water and the last pad is applied dry the stone was dry in no time and therefore ready for sealing. For sealing I had selected Tile Doctor Colour Grow which met the owners' requirements and adds a durable protection which is great for areas such as hallways that experience a lot of foot traffic.
Three coats were applied allowing each one to dry before applying the next. All stains had been removed and the natural colours in the crushed stone were improved by the sealer which has a colour enhancing formula. The floor looked great, and the client was very happy with the work we had carried out.
For aftercare on a floor like this I recommended using Tile Doctor Stone Soap which we usually use on polished stone. It's a mild cleaner with a neutral pH which is ideal for sealed stone and will also help add a slight patina.
Professional Restoration of a Terrazzo Tiled Hallway in Worcestershire