Named after the monarch of the time Edwardian tiles are very similar to Victorian tiles in both their colourful nature and geometric design. Both types of tiled floor are commonly found in older properties, but they aren't always immediately visible because unfortunately many people opt to cover them up with carpet or linoleum.
This customer had just moved into a house in Bewdley, a town in Worcestershire and the home of Severn Valley railway, and after lifting the carpet to replace it found a lovely Edwardian tiled hallway. She decided immediately the floor should be restored to its original condition and so contacted me to see what could be done.
Repairing an Edwardian Tiled Floor
At some point in the past, the house had been extended, and the builders had damaged the tiles towards the rear of the hallway to install a gas pipe.
This meant my first task was to carefully remove the concrete without damaging the gas pipe, before rebuilding the floor to the level where I could relay new tiles and replace damaged ones.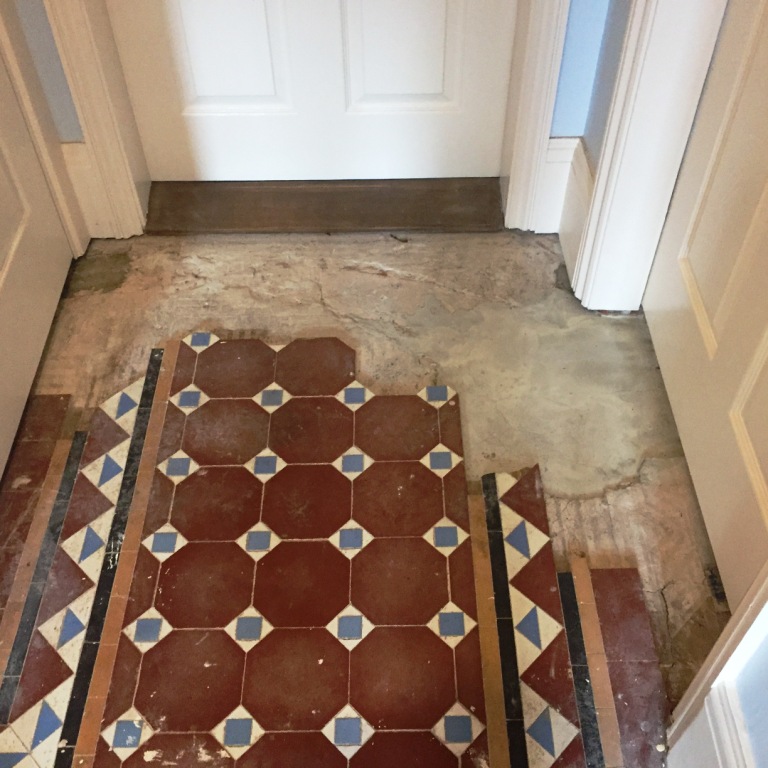 It took two days to repair the floor, but with the hallway successfully rebuilt I could then move onto the task of cleaning and sealing the tiles.
Cleaning an Edwardian Tiled Floor
It took me another full day to clean, speed dry and seal the floor.
I started by applying Tile Doctor Remove and Go around the edges of the Edwardian hallway tiles to eliminate any paint splashes and glue stains from previous decoration work and the carpet that had been secured to the tiles by adhesive.
This was then followed by treating the floor with an acid wash using Tile Doctor Acid Gel with a buffing machine fitted with a black scrubbing pad to clean off any old grout smears and other residues. The floor was then carefully rinsed down with water applied using micro fibre cloths so it wouldn't get too damp and then speed dried with air blowers.
Sealing an Edwardian Tiled Floor
Once satisfied that the floor was as clean as possible and bone dry from the speed driers I moved swiftly on to sealing them.
My choice of sealer was Tile Doctor Colour Grow, since the customer requested a natural finish. I applied three heavy coats of the sealer to lift the colours in the tiles and provide a long-lasting impregnating sealer to protect them against dirt and make them easy to keep clean in future.
The transformation was remarkable and the customer was so happy with the result they left the following feedback:
"Mick and his tiler Dean were friendly, courteous, professional and trustworthy throughout the service given. An excellent job was made of restoring my original Victorian tiled floor – the reproduction tiles look like they've been there forever. Mick was extremely helpful to me when I had a crisis with a leaking roof while he was at my home. Would highly recommend him."
Professional Repair and Restoration of an Edwardian Tiled Floor in Bewdley